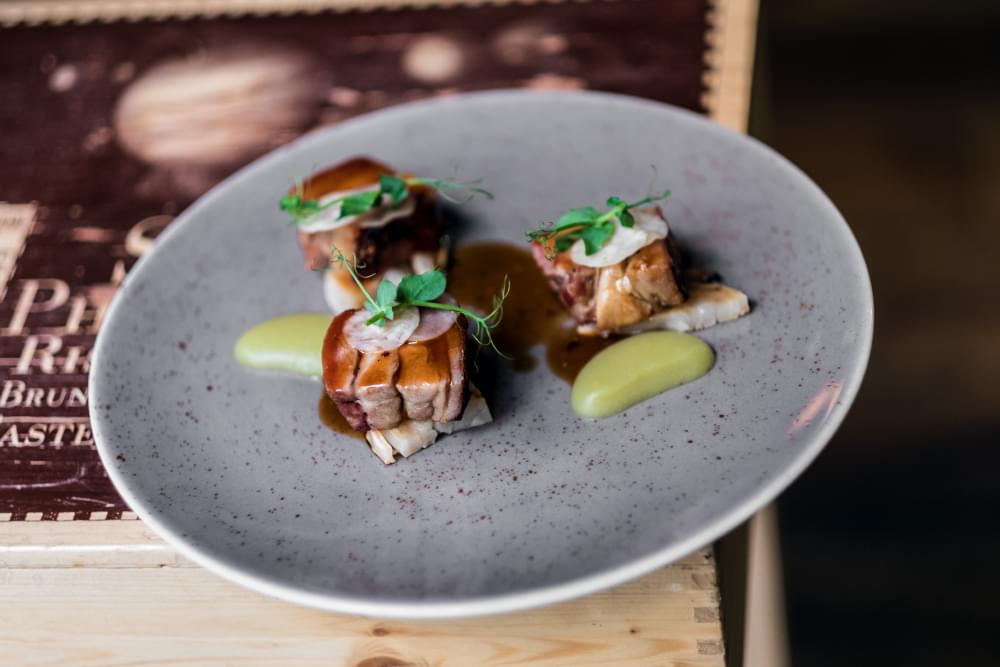 Autumn is in the air and arrived to La Finestra. Let the atmosphere of our interior taste and smell the new autumn menu. The menu is made by the chef Tomáš Juřík. With every single course you open the door to new taste dimensions. Tomas has a special sense of taste.
Receive an invitation to our news, start your menu with starters, beef tartare with mustard seed, greaves and fried potato crumble and foie gras terrine with candied pumpkin, hazelnuts and gingerbread.
And do not just stay at one, it would be a shame to lose the scallop carpaccio with pear, tangerine, herbs and black truffle emulsion, as well as Raw prawns with bone marrow tempura, lemon zest and sea urchin.
Another novelty among starters is the roasted sweetbread with chestnuts, fried artichokes and Parmesan foam.
The poultry and vegetables broth, raviolini and chervil oil will warm you up in autumn days. And if the choice of the soup was on us, we'd like to choose the celeriac velouté with poached egg yolk, Altamura croutons and brown butter.
From pasta you can enjoy ravioli filled with wild boar, mirabelle plums and hibiscus as well as lightly smoked potato gnocchi with Martini sauce, cuttlefish and burned onion dust.
Italian risotto lovers will enjoy the topinambur risotto with duck confit.
Meat is our highness, come to taste, new main courses - piglet with apple purée and marinated white cabbage or guinea fowl with garlic confit, parsnip, wild broccoli and seasonal mushrooms.
And to the end comes something sweet, the course it has, venison saddle with baby beetroot, pumpkin, savoy cabbage and Amarena cherries sauce with chocolate
Words can not capture the flavor of the autumn menu as perfectly as if you taste it yourself. Come and enjoy an unforgettable gastronomic experience at our restaurant. Book your table!