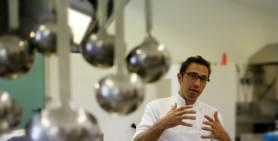 Come to taste the specialties of the chef Stefano Ciotti
Our cooking school Laboratorio, Scuola di Cucina has another specialty for you! Mr. STEFANO Ciotti, the Italian chef and Michelin star, has accepted an Invitation from Riccardo Lucque. This renowned expert worked closely with experts in the field at the beginning of his career. He has experience with a variety of hospitality directions from the usual Italian restaurants in smaller towns to the organization of banquets and receptions for thousands of people. The chef and director of the new restaurant Urbino dei Laghi will introduce his kitchen full of innovation. He brings inherited traditions and authentic flavors to his cooking and also introduces the concept of all-​natural high-​level pizza to menus.
Therefore, we are honored to inform you in advance that you can add these two dates to your gastronomic calendar.
Come and find out how dishes from the hands of the holder of a Michelin star taste.
Prosecco di Valdobbiadene brut Quartese, Ruggieri
Salsiccia burger, chips alla liquirizia
Salsiccia burger with liquorice chips
Prosecco di Valdobbiadene brut Quartese, Ruggieri
Uovo in crosta di pecorino, verdure alla bazana
Egg in pecorino crust with vegetable "bazana" style
Verdicchio le Oche 2012, Fattoria San Lorenzo
Tortelli di patate, salsa pizzaiola
Potato tortelli with pizzaiola sauce
Il San Lorenzo Rosso 2001, Fattoria San Lorenzo
Galletto ripieno
Stuffed cockerel
Montepulciano d'Abruzzo, Emidio Pepe
Tiramisu al Baileys
Tiramisu with Baileys
The tasting menu is at the great price of CZK 3,200 and will be complimented with a selection of Italian wines from the ViadelVino portfolio that will be presented by our sommelier, Flemming Laugesen.
Laboratorio , Scuola di Cucina, Krocínova 333/​3 , Praha 1.
The capacity is limited, so do not hesitate to book your place as soon as possible by phone + 420 774 248 820 or by e -mail info@laboratorio.cz. For more information please take a look at our Cooking School website.
We look forward to meeting you!
Stefano Ciotti , Riccardo Lucque anf the Cooking School team