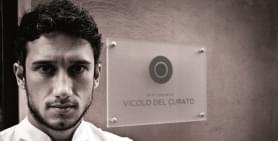 Italian chef, and the owner of the restaurant Vicolo del Curato, Mr. Federico Delmonte is going to visit Prague at the invitation of Riccardo Lucque, the owner of the Aromi, La Finestra and Il Mercato restaurants and the Cooking School Laboratorio, Scuola di Cucina.
Federico worked in many Michelin star restaurants both in Italy and England. He is currently in the running for this prestigious award for his restaurant Vicolo del Curato, located in the Marche region in the seaside town Fano.
Do not miss this unique opportunity to come and taste his special menu on Thursday, May 23rd 2013 from 7 p.m.
Snacks: Bonbon of mozzarella, roasted corn and cream of peas
Beef Tartar - hand chopped "Raffaello"
Roasted Veal Tongue - radicchio, apple and fresh almond
Rabbit Cappellacci - crumbled ham, mashed dry beans
Yakitori of Pork Filet - marinated with tamarind, served with spinach and fennel with saffron
Pre-​dessert: Gin and Lemon Jelly, yogurt foam, mint
Equilibrium: Two Chocolate Fondant
For great interest for this unique opportunity we have prepared a meeting of the Italian Chef at the Riccardo Lucque Cooking School, Laboratorio Scuola di Cucina. You can glimpse behind the scenes of his cooking techniques on Tuesday 21st May from 6 p.m. You can book you place at the course with Federico here.
We look forward to seeing you!
Federico Delmonte and La Finestra team