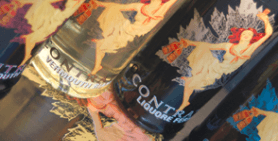 come to spend an unforgettable evening with a special menu created in cooperation with Contratto winery on Tuesday, September 23rd 2014.
The company Contratto was founded in 1867 by Giuseppe Contratto and the winery is known as the oldest producer of sparkling wine in Italy. In fact, the "Metodo Classico" 1919 Contratto Extra Brut was the first vintage sparkling wine ever made in the country.
The winery has a long, distinguished history. At the turn of the 20th century, its wines were leaving Canelli for destinations all over the world (predominantly to royal houses), and Contratto was the personal supplier to the Vatican as well as to the Italian Royal Family. Awards and medals from international exhibitions and contests of the time emphasize why the name of Contratto has long been synonymous with prestige and quality in the world of sparkling wine.
Do not miss Grilled sweetbread with cauliflower purée, mushrooms and sauce of lentil Castelluccio nebo Ravioli stuffed with smoked potatoes, marinated mussels and many other delicacies. Book your table as soon as possible!
The restaurant La Finestra team with Contratto winery sommelier look forward to seeing you!