Riccardo Agostini in Prague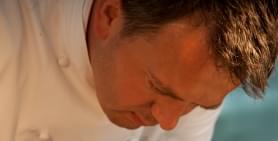 Riccardo Agostini, Italian chef, the owner of the Il Piastrino restaurant and the owner of the prestige Michelin Star is going to visit Prague at the invitation of Riccardo Lucque, the owner of the Aromi, La Finestra and Il Mercato restaurants.
Do not miss this unique opportunity to come and taste his special menu prepared from the "BUE GRASSO DEL MONTEFELTRO" Marchigiana breed beef. The beef is coming from Domenico Celli, our main beef supplier and the owner of the traditional Italian butchery.
MENU
Salami selection from Domenico Celli´s production
Chopped beef, hazelnut butter and parmesan pearls
Exfoliated boiled beef, with vin Santo dressing, pickled onion and chick peas
Traditional tagliatelline with beef ragout
Cannellone of slow cooked beef "Vaccinara" with crispy vegetable and truffles
Beef roulade with topinambour and pecorina di fossa
Yogurt with rose and litchis
For great interest for this unique opportunity we have prepared a meeting of the Michelin Chef at our Riccardo Lucque Cooking School, Laboratorio Scuola di Cucina. You can glimpse behind the scenes of his cooking techniques on Tuesday 5th and Wednesday 6th March always from 10.30 a.m. During the lunch menu preparation you will have the opportunity to talk with Riccardo Agostini, you will see his preparation techniques of various dishes with your own eyes, especially the preparation of the fresh beef from Domenico Celli. You can book you place here.
We look forward to seeing you!