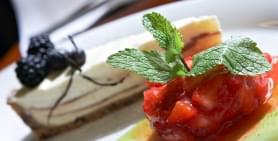 We would like to inform you that we have prepared a new Dessert Menu. Come to taste our Chestnut Meringue Cake with Mixed Berries. You can also find out more about our desserts selection in the Desserts section on our web pages.
For more information please do not hesitate to contact us by phone +420 222 325 325 or by e-​mail info@lafinestra.cz.
Please stop in soon and taste the new desserts in our restaurant.
We look forward to seeing you!