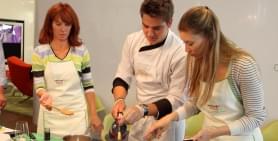 The Cooking Courses for the year 2012 are ready. Take a trip with us to some of Italy's regions and visit for example Tuscany's, Napoli's or Southern Italy's cuisine. Are you interested in specific meals? You can learn to prepare tasty pasta, sauces, seafood and many other.
Additionally a Sommelier is present within each Course to choose suitable wines for the prepared menu.
Chefs from restaurants La Finestra, Aromi and the shop La Bottega Riccardo Lucque, Tomáš Černý, Radim Gerlich and Davide Lagomarsino are looking forward to seeing you.

Do not miss the opportunity to experience real Italian atmosphere and spend more pleasant time at home with our own original recipes.

You can also give our vouchers for the cooking courses as a present to your loved ones or business partners. Vouchers can be bought in our restaurants La Finestra and Aromi or in the shop La Bottega.
We'll be more than happy to arrange a private tailor-​made cooking workshop to suit your needs as well.
For more information please contact Tereza Vrchlavská, e-​mail: vrchlavska@aromi.cz, GSM: +420 774 248 820.
We look forward to seeing you!