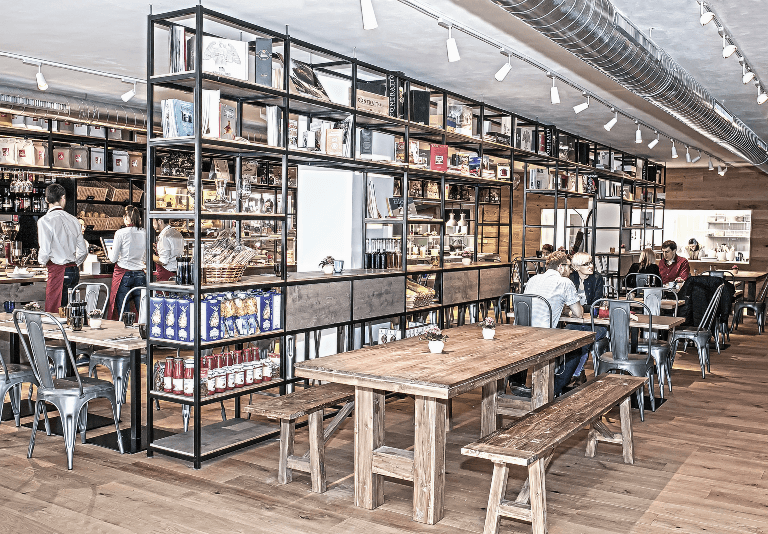 Chef Riccardo Lucque, owner of Aromi and La Finestra Restaurants, opened another bistro & shop La Bottega Tusarova in Holešovice (address: Tusarova 39, Prague 7). Come to taste a wide range of Italian delicacies. Enjoy homemade Altamura´s bread, salami, prosciutto, cheese, pasta and desserts. Our offer is complemented by excellent Italian wines complemented by diverse warm buffet.
You can visit us all day from 9am to 10pm (on Sunday to 9pm). We offer a delicious breakfast, a new lunch menu every day at a reduced price and in the evening you can enjoy an a la carte multi-​course dinner. Every day we will prepare a full range of delicious dishes that you can eat on-​premises, or you can have them packed to take away with you.
La Bottega Tusarova is not only an Italian bistro with a shop, but also where we produce all of our products from bread and pasta to desserts. In addition, we will prepare catering to any of your corporate event!
In February, we also opened a butcher shop La Bottega Macelleria in Vinohrady in the former shop La Bottega di Aromi, Mánesova 83, Prague 2. Come and choose from a wide selection of Italian meats, which we have prepared for you straight to grilling or roasting.
So don´t hesitate to come and taste our products from our new bistro and our butcher shop!
We look forward to meeting you!
Riccardo Lucque and La Finestra team